December 1, 2016
A small, wooden, stave church, known as the 'Church of Sailors', sits in an empty and solitude landscape, with views of the ocean from a lonely beach. Hilmar and...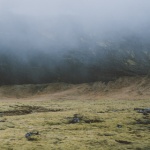 December 1, 2016
The shores of Önundarfjörður are surrounded by picturesque valleys and mountains. In winter this can be a harsh and treacherous landscape. In October 1995 a devastating avalanche struck Flateyri,...
February 2, 2016
Coloured fishing vessels are often moored in the tiny harbour of Hvammstangi, a town that sits in the eastern shore of the Miðfjörður. The name is derived from 'hvammur',...