One of the world's most celebrated contemporary dance choreographers, Wayne McGregor, is teaming up with Mercury KX for his first ever curated album release. Collaboration is a personal collection, curated by McGregor himself, combining some of his favourite pieces of music he commissioned for his dance productions over the last 25 years.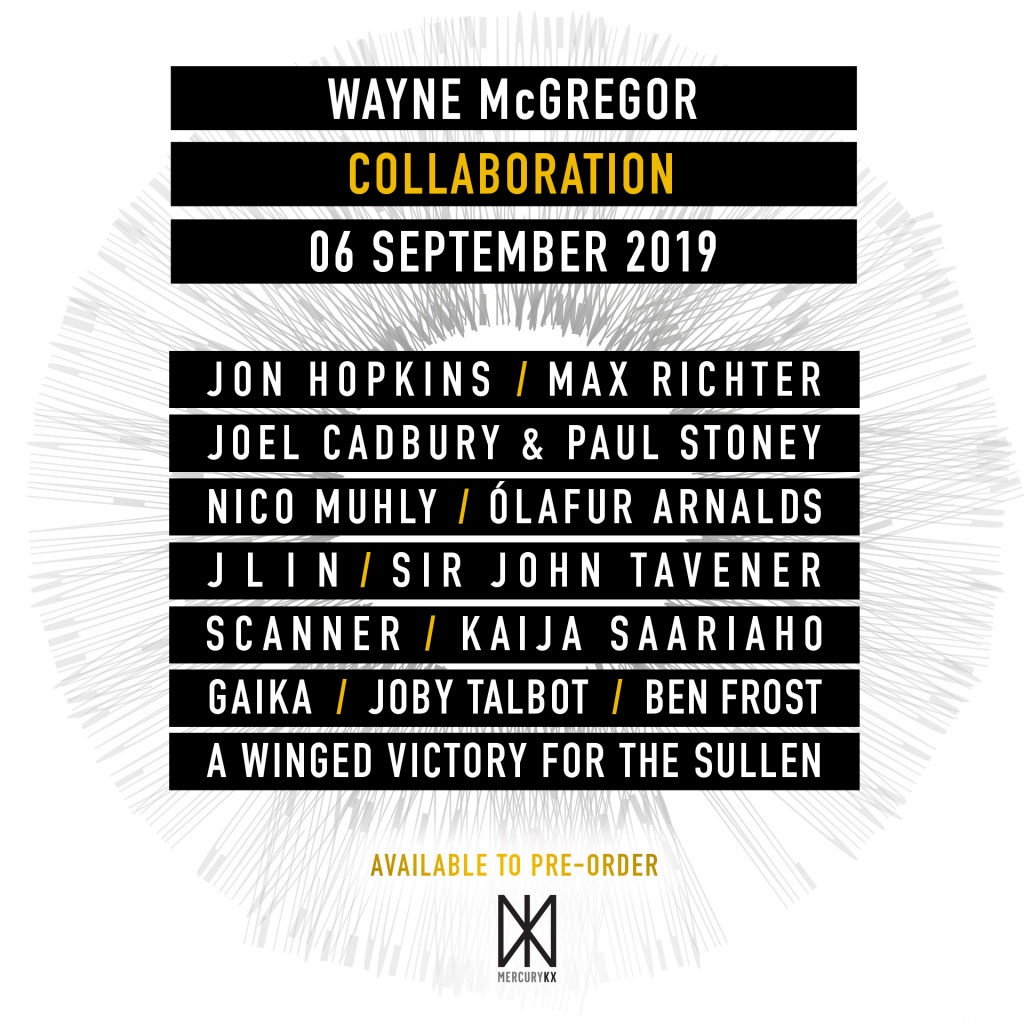 Acclaimed for his ground-breaking collaborations, McGregor has worked closely with many of the leading and most adventurous composers from contemporary classical and electronic music, to create music that allies with his artistic vision. The album is a reflection of this and includes music by composers ranging from Jon Hopkins and Jlin to Max Richter and Kaija Saariaho, amongst many others. It also includes the world premiere recording of a piece by Sir John Tavener, written for McGregor's ballet Amu. Several of the pieces on this album have been re-recorded and rearranged, always in close collaboration with McGregor and the original composer.
It's been an honour to work with a fantastic roster of composers over the last 25 years, not least those featured on my debut record on Mercury KX. Working in collaborative dialogue with other artists has always fuelled my creative process and I feel privileged to have shared these endeavours with such a range of talented and inquisitive people. I'm thrilled to be releasing my first compilation album which represents a few of these moments.
Wayne McGregor
American composer Nico Muhly, who arranged William Byrd's 'Miserere Mei' for the ballet Machina, said of the project:
It's wonderful to see a choreographer not just acknowledge, but formally compile the music that has formed the basis of his output. It's really thrilling to have this album exist and I can't wait to listen to the whole thing.
Nico Muhly
Above all the things that struck me about him was his clarity of vision, he was very clear structurally about what the music for these pieces wanted to do… He very much wanted to invite collaborators who are going to bring their talents to the table and allow them room to really express themselves. It was just amazing working with him.
Joby Talbot (Composer)
Born in 1970, Wayne McGregor CBE is a multi-award-winning British choreographer and director, internationally renowned for trailblazing innovations in performance that have radically redefined dance in the modern era. In 1993, McGregor founded Company Wayne McGregor, which was the original instrument through which McGregor evolved his distinctive visual style, revealing the movement possibilities of the body in ever more precise degrees of articulation. Driven by an insatiable curiosity about movement and its creative potentials, his experiments have led him into collaborative dialogue with an array of artistic forms, scientific disciplines, and technological interventions. The startling and multi-dimensional works resulting from these interactions have ensured McGregor's position at the cutting edge of contemporary arts for over 25 years.
Wayne McGregor has inspired some of today's most exciting new music and we are thrilled to be working with him on this very special album. He is a unique cultural curator who has been pushing the boundaries between genres throughout his entire career in his search for artistic expression. He is a remarkable collaborator whose values feel truly aligned with ours as a label.
Dr. Alexander Buhr (MKX)