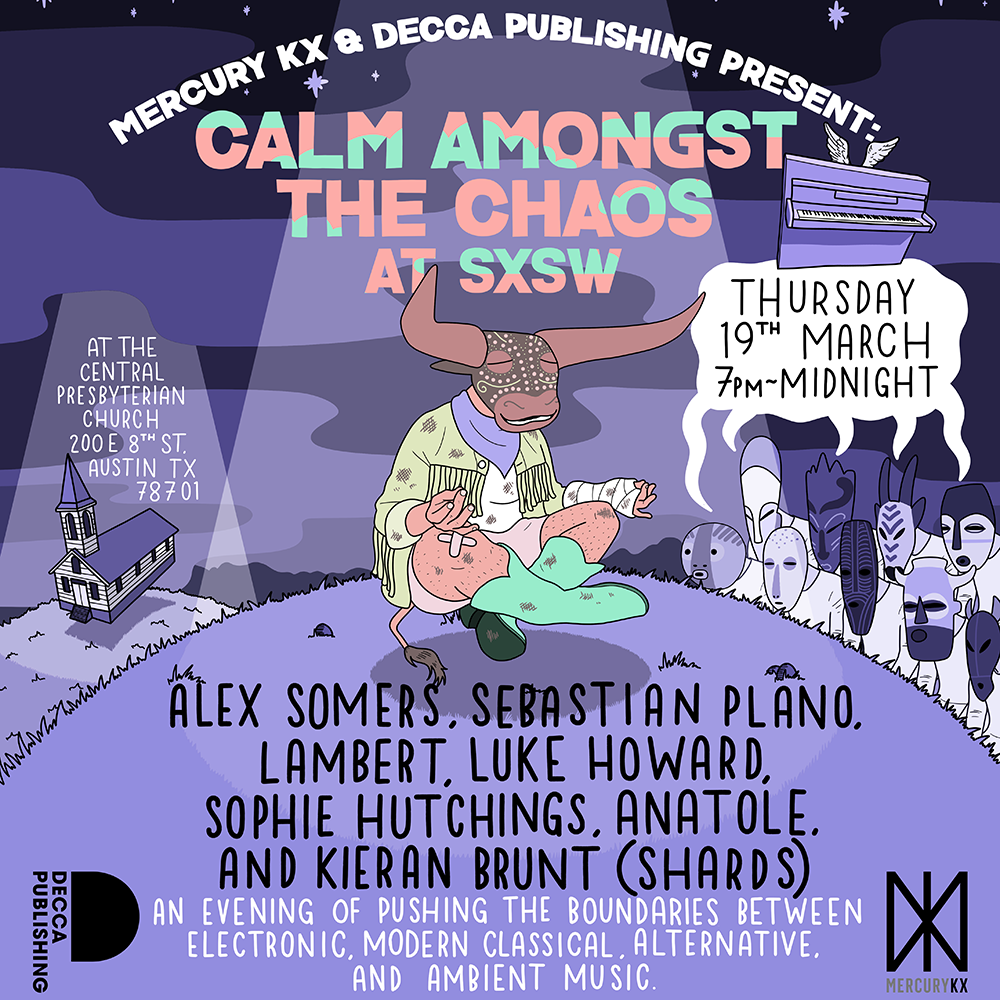 MARCH 12th, 2020 UPDATE
Our SXSW showcase Calm Amongst The Chaos at SXSW  will no longer be going ahead. We'll meet soon, until then, stay healthy and safe. <3
You can listen to tracks from the event's artists via this playlist:
---
FEB 25th, 2020 ORIGINAL POST
Mercury KX and Decca Publishing join forces at the 2020 SXSW Music Festival, co-presenting a brand new artist showcase on Thursday 19th March from 7pm-midnight at the Central Presbyterian Church, Austin TX.
The showcase is the first of its kind, presenting a unique and exciting approach to contemporary music which pushes the boundaries between electronic, modern classical, alternative and ambient music.
Mercury KX and Decca Publishing are fast making their mark as innovative new entities operating within Universal Music Group. Their respective rosters create genre-defying sound-worlds that bridge electronic, post-classical, cinematic, alternative and ambient genres.
The artists who will be performing at the SXSW showcase on 19th March are:
Argentinian multi-instrumentalist Sebastian Plano, whose latest album Verve earned him a GRAMMY nomination;
Masked pianist Lambert, whose latest album True is enjoying global streaming success;
25-year-old DJ and producer Anatole, whose distinct signature sound combines orchestral techniques with beat-driven production;
Australian pianist and composer Luke Howard, whose new audio-visual project The Sand That Ate The Sea saw him team up with film director Matthew Thorne;
American composer and producer Alex Somers (also known for his work with Sigur Rós), who recently scored the music to Shia LaBeouf's new film Honey Boy;
Australian pianist and composer Sophie Hutchings, whose compositions display her elegant, ruminative style;
London-based singer, songwriter and producer Kieran Brunt, who established the electronic duo 'Strange Boy' and vocal ensemble ' Shards'.
All seven artists have been unveiled as part of the Showcasing Artists for the 2020 SXSW Music Festival taking place in Austin, TX from March 16-22.